In AO, there are tons of kingdoms battling it out with each other using multiple curse users as their line of defense and offense. Seeing as curses seem to be one of the most prioritized items in the War Seas, it ponders the mind as to how this system exactly works.
From my understanding thus far. Curse Vaults are used to hold curses in a secret location guarded by highly trained people or other curse users. I made a very detailed drawing as to what this may look like.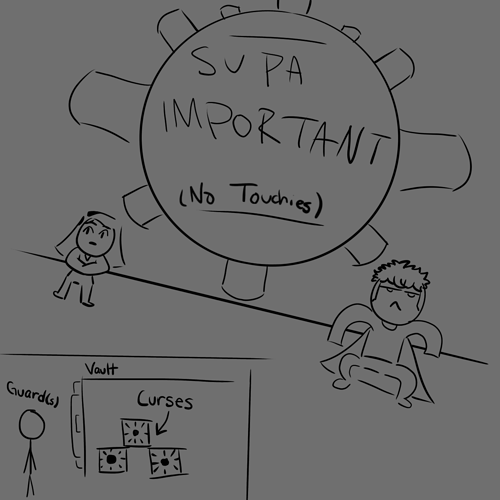 What system is used to give out curses to certain users?
The system as to how curse users are chosen are most likely dependent on the kingdom. I'm sure most may use a system of tournaments to actually choose worthy people. Curse users may also be chosen just by whose ruling at the time. It's a possibility that anyone close in a relationship with someone who rules a kingdom could easily obtain a curse for themselves, creating pretty bad circumstances.
Why are they all in the War Seas?
It definitely seems as though the setting of the War Seas contain a plethora of curses, while Arcane Adventures don't seem to have that many. I wonder when the curses were first originally sent out that most were released to the War Seas for a certain purpose?
I had more things to say but I'm too tired to put them down