As the Artists of the Forums saw these images, they felt a surge of excitement go through their blood. With their pen in hand, and a sweat breaking down their for head, they booted up their tablets simultaneously, and so, a huge wave hit the Forums.
The crew's designs far surpass the expectations I had for them, the hooded guy looks cool but it'll probably be the "edgy" pick for most people.
Hopefully their lines aren't played everytime you do an action otherwise they'll get annoying fast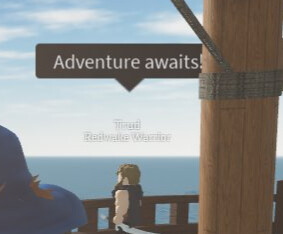 Edward appears to be a deserter of the Navy. Talking to him will probably reveal stories Grand Navy related.
The fact that the Co-Captain is a portable shop is an amazing addition.
Ulf is an NPC that gives you the option to hire goons for your ship. NPCs that let you do this will probably have this icon above their head as an indicator.


I wonder if your crew's names are randomly generated, and what happens after they die? Do you have to purchase a new one?
Imagine sneaking up on someone on your ship and your crew and captain loudly announces your presence in the chat