2 hours of luck 5 fishing = no sunken
at least my 16 toughened scrolls will keep my company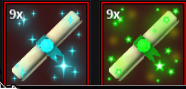 All of these enchantment scrolls are specific to fishing and only affect fishing rods.
The base level fishing enchants you're used to give a 20% increase to the stat it focuses on.
These give +50%.
In the dark sea specifically, that's where these scrolls come from.
so fish in the 0 insanity range to be safe?
Yeah. Massive Fish can't be found there, though.
this is karma for the sunken incident last month
what the hell does that have to do with me
the sunken incident was funny tho
you can only catch them in insanity 1 +
Arcane Odyssey after rewarding the player's darksea/fishing hardship with the shittest exotic scrolls known to man:
seriously though who the FUCK uses charged it's ONE STEP AWAY FROM POWERFUL
JUST GIVE ME POWERFUL! OR ARMORED! I HAVEN'T HAD EITHER, EVER!
FUCK!
YLLLLLyou can ln my feiedn caught 2 scrolls and 2 narwhal horns while we were fishing in the border