Deadass feels like I am doing a replica of D-day with all of the waves and balls.
YEAH NO SHIT
Fuck that range bruh it's unsurvivable

there's further ranges
but this one is the most memorable for first time dark sea entrees
Atlanteans ships have killed me everytime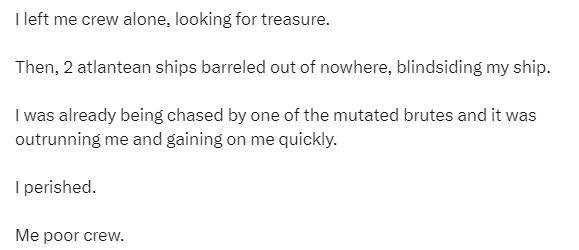 akursius keep: oooo i'm spoooookyyyyy don't fall down the imaginary rampaaaaaart
the dark sea:
THEY WILL TEAR OUT YOUR THROAT. THE RED LIGHTNING WILL TURN YOU TO ASH. YOUR CREW WILL BE SET ABLAZE BY THE WAVES OF FIRE. THERE IS NO HOPE. THERE IS NO SALVATION. YOU WILL DIE HERE.
Fr the place was terrifying when I couldn't bathe in my friends Brig
Can confirm, never returned to Bronze Sea alive (not my fault my party members were morons who didn't know when to go back)
range 1, namely.
Especially if…
Aggroing an Atlantean brig ONCE:
FUCKER CHASED ME ALL THE WAY TO THE BORDER OF THE DARK SEA. EVEN AFTER HE SEEMED TO DISAPPEAR.
speculation: the reason why atlanteans don't travel into the bronze sea is because they're somehow aware that the grand navy, ravenna, and the pirates will all jump them immediately once they're detected
an atlantean brig CAME OUT OF NOWHERE and rammed me, first time got my brig sunk, and finally realized that I heavily underestimated the dark sea.