clearer video:

the server age is 2h and 51minutes i have no clue whats going on here
im gonna cry wtf is this offer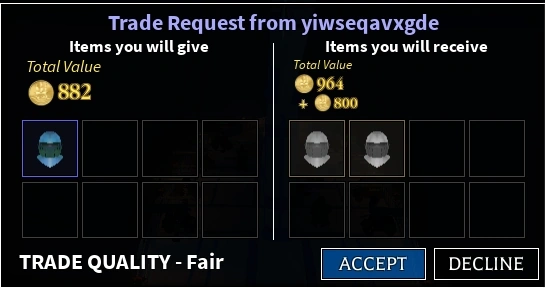 If this ever happens to me, expect me to be inactive for a long time (if you know what I mean) [joking]
"just add water, its the same thing!"
'tis just a coat of blue paint.
I thought that was just a lag thing. It's super funny when it happens, but really annoying if you're trying to play """seriously""".
I GOT INFINITE METERS AWAY
Imagine getting hit with this looney toons ass predicament.
Bro took the speed of light to the next level.
flight spell bugged a little too much
the pope been hitting the gym
He looks like if you mixed bob ross with sensei Wu with Larry the lobster.
That happened to me once while I was leveling up my warlord iirc.

When I was first playing I got on a rowboat on the spawn island and literally the first thing to happen when I got on was that the rowboat got struck by lightning, killing us both.