So I decided to watch the new weapons vid in slow-motion and caught a few abilities.
Credit to @Fluect for redone stuff and credit to @Wapingkoo for gifs
Sword Draw: Flash Strike - Dash forward and create an AoE behind you.
Sword Draw: Mirrored River - Flash Strike but worse hitbox + longer cooldown for some reason.
At least it looks cooler. Does an arc slash above you.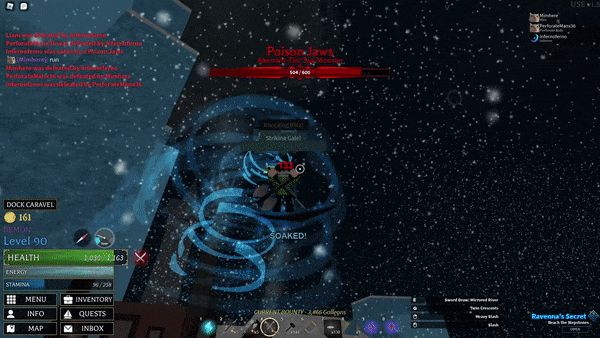 Knocking Blitz - Dashgrab that multi-hits then sends them forward or backward/nowhere if it bugs

Striking Gale - Slash that sends forward a tornado which explodes on impact.

Flying Slash - Sends a big diagonal slash forwards.

Twin Crescents - Flying Slash but it sends 2 smaller/less damaging projectiles instead of 1.
Piercing Gale - Spin in a circle and send a projectile made from a jet of air forwards, can deal knockback.

Rising Tide - WoM Rising Tide except angleable and can apply Soaked.

Will update if anyone finds any more.