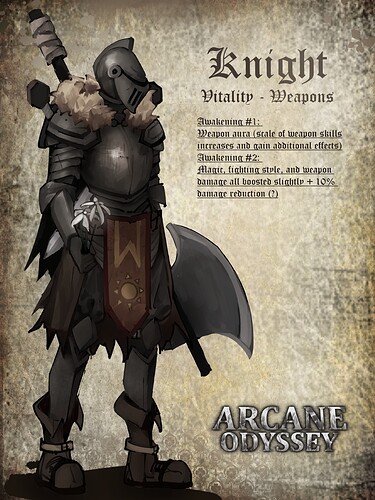 plan to cover all of the remaining builds.
anyways here's the first one, knight.
feel free to suggest me anything.
what taking a break from gpo does to a man
YO this looks sick!!! A very interesting change form your typical artstyle, I'm liking the grittier feel of it.
so this is what you've been doing this couple of months
wait what no?

@Soraa SO chap 2? :frplead:
gpo calls
AO advertising posters wheN?
Phewka making bulkier characters? Damn, cant wait for juggernaut and warden hehe.
mako is that you?

pardon me if im mistaken but that "hehe" seems to have caught my eye
nah im pretty sure that's him
Love how the knight looks. Very EPIC!
Do the mage Do the mage Do the mage Do the mage Do the mage
Next
Ohoh interesting

They better have armor like this for drippy builds
Knight's getting love? 10/10
lets go phewka break the body shape curse
Amazing, can't wait to see warlock.