Been thinking about this for a while, and I think it would be useful to have a general build-making guide up somewhere for people to look at, with stats of different unlocks all in one place to see, as well as general knowledge on how to put together a build, not just for this update, but updates going forward as well.
This is intended to be something you can link people who ask "What is the best build for X magic" or "What is the best magic for X build" or even "What are the best stats for X"
General Knowledge;
When designing a build for your character, there are a few things that should be taken into account. First of all, what build do you WANT to play, what sounds fun to you. This is a game where you can make almost anything work if you put enough effort into designing your build, so think about what you want to play, what sounds fun, and what playstyle you're looking for. If you're having a tough time making a decision, I'll outline the benefits of each build type in the following collapsed menu:
Build path summary

Savant

Savant is a build path that, so far in the game at the time of writing this, relies heavily on the sheer variety of attacks at it's disposal. If you enjoy hot swapping between skill sets for different situations, this class may be good for you. Later on in the game, you can choose to imbue your weapons with fighting or magic styles, or imbue your fighting style/s with a magic. This build encompasses a wide variety of stats, and two awakening path options: Magic or fighting, which allow you to unlock a second magic OR second fighting style. Despite recent tier lists, this build path is very versatile and can still dish out decent damage if built around properly.

Mono-stat builds

Mono-stat builds only use one stat for their attacks, resulting in a powerful focused playstyle. While they aren't as flexible in their stat spread or tool usage as hybrids, instead provide much more options on a single pathway.

Mage

as the current "meta" of the game, mage relies heavily on its ranged attacks to zone enemies out, while heavier magics can go for a more brawler style to get in close and deal heavy damage with large AOEs. This build path only has one stat you can invest in, and vitality, so while not very diverse in builds, it is incredibly diverse in synergies and spell modifiers, making it a powerful force in the current game. Later on in the game, it will be able to learn three magics.

Warrior

Warrior is a class that is defined by its ability to quickly adjust its playstyle to whatever the situation may call for. With three weapon slots, and each weapon has a variety of different and unique skills, you may find yourself swapping out your weapons to try different combinations at different points in the game. As the most flexible build after progression is complete, it solidifies itself in a unique position.

Berserker

Designed with a brawler in mind, berserker has many close-ranged skills that are meant for chase-down playstyles combined with aggression and quick movement. Though, at current this playstyle is ill-defined, and berserkers mostly rely on their single ranged skill to stay competitive in PVP content (as well as some PVE content), the playstyle it offers as the intended one is incredibly unique, and can still be viable for a fun playthrough if that is what you are looking for.

Warden

As the only class that isn't yet playable, everything on warden is pure speculation. Though it is known that wardens are intended to wield "Spirit weapons", a unique type of attack method that uses one's own lifeforce to attack with, not much else is known about their playstyle. My personal speculation is that they will drain your hp, as a vitality class you will have an excess of that resource, to use each of the skills on the weapon. You may want to keep a save slot in reserve to try this class when it becomes available.

Dual-stat builds

Being dual stat builds, these builds provide much more flexibility in stat spread than their mono-stat counterparts, only requiring at least 40% of your stats in each of the two chosen stats to qualify.

Conjurer

Conjurer, as a weapons and magic hybrid, is a class that specializes in imbuing it's weapons with the effects of it's magic. When imbued, you will gain the stat multipliers of your magic, and the status effects of the magic, alongside the status synergies of your magic, all applied to your weapons. You can apply special synergies with imbuement, such as steam, which is a combination of heat, and water energy that creates a unique heat-based magic effect.

Warlock

Warlock is a combination of fighting style and magic, resulting in extra synergies from imbuement, or casting separately. Like Conjurer, it can also imbue magic onto it's second stat, fighting styles. Fighting styles can provide unique synergies on their attacks, such as thermo fist's burn which synergizes with heat magics, or sailor fist's soaked which can synergize well with cold magics.

Warlord

This stat path focuses on fighting style and weapons, the strength and weapons stats. As a build, it can use unique weapon types called "Strength weapons", which have more powerful versions of normal weapon skills, as well as some unique skills to themselves. They also have the ability to imbue the stats of their fighting styles, as well as the passives, onto their weapons for increased potency of their attacks.

Vitality hybrids

Vitality hybrids, which are listed as Knight (weapons), Paladin (magic), and Juggernaught (Strength). These builds currently only have access to the same benefits as the mono-stat counterparts, however with more base HP, and less base damage. These builds can reach high hp numbers, and can be pretty well made, however, keep in mind that you will not have access to the higher tier skills that the mono-stat hybrids have, as well as lower damage, for the benefit of being a little tankier. Later down the line, these builds may get access to spirit weapons, which warden will also use, but for now, they get no extra benefits.
With that out of the way, let's get onto the discussion of how to spread your stats. When making a stat spread, it is important to keep in mind that your stats will NEVER increase your damage, the only stat that will change your damage is VITALITY which will decrease your damage, all other stats just unlock new skills which will increase your battle performance.
Stat points put into ATTACKING STATS, such as magic, strength, and weapons, will also increase your max energy by 2 points per stat, with the 100 base added as well.
Here is an incredibly brief summary on buildcraft for each spread archetype (Mono, dual, or savant)
For Mono-stat builds
generally speaking, you will probably want most of your stat points just pushed directly into your main stat. You have the option to get vitality, however it will decrease your damage for only marginally higher HP (4 hp per point), and you will lose access to later unlocks that you would have had if you put points into your main stat.
For Dual-stat builds
You NEED to take into account what skills you want to unlock on each of your pathways. Some notable stat spreads are 40:60 (maxed 100/150), or 48:52 (maxed 120/130) currently. There WILL be different stat spread options in the future with more unlocks, these are just the current ones with major unlock points.
For Savant
Your build should keep in mind a similar concept to dual-stat builds, however, be careful to not spread yourself too thin. Remember that as a savant, you have the freedom to allocate your points however you want as long as you don't meet the prerequisite for any other build. That means you MAY NOT PUT 60% OR MORE OF YOUR POINTS IN ONE STAT, AND MAY NOT PUT 40% OR MORE OF YOUR POINTS IN TWO STATS. This still gives you a lot of freedom, and you can even get to builds that are very similar to the dual-stat hybrids, just without the imbue and opting instead for a second magic/fighting style.
As a pop-quiz, i will give anyone who can tell me EVERYTHING that is wrong with this build a big fat smooch: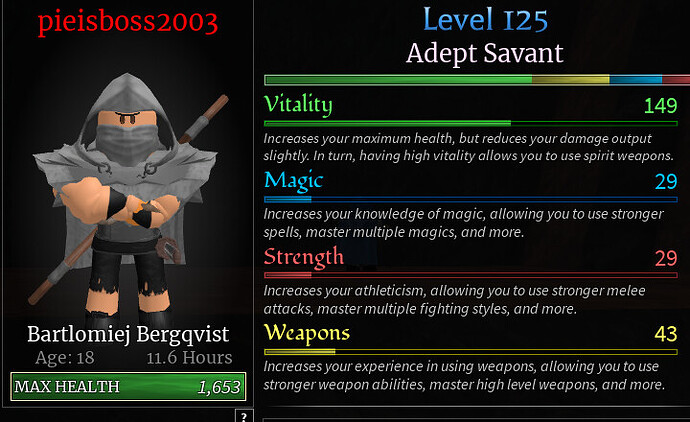 More in-depth builds than this can be put together and crafted by yourself, but I will be putting notable unlocks for each build below so you may have them all in one place for reference.
Magic builds


Notable unlock points include:

explosion
multi beam (magic 120, for specific magics that like to spread hazards)
snare (For magics with stacking statuses)
aura (for magics that have high multipliers on their aura types)

There are also notable unlocks at ultimate art for explosion, shapes, magic jump, and magic stat 160 which unlocks pulsar.
Strength builds


Notable unlock points include:

Smash (shockwave variant)
Rushdown
Shot
Focus (for fighting styles with high multipliers on their focus types)

There are also notable unlocks at ultimate art crash, embodiments, air step, and strength stat 160 which unlocks axe slash.
Weapons builds

Weapons builds are unique in that they don't have standard skills, instead opting for skills per weapon, and weapons have similar stat requirements. Weapons builds get LARGE jumps in skill unlocks all at once.

Notable unlocks include:

20 weapons (old weapons first skill)
50 weapons (old weapons second skill)
100 weapons (normal weapons, sunken, Poison tooth and uncommon weapons first skill)
130 weapons (normal weapons, sunken, poison tooth and uncommon weapons second skill, Elius weapons first skill)
150 weapons (elius weapons second skill)
200 weapons (Triasta, ravena GS first skill)
230 weapons (triasta, ravena GS second skill)
240 weapons (vindicator)
If anyone has anything they'd like added feel free to comment, specifically looking for the stat point costs on any notable unlocks mentioned that haven't had the stat put next to them