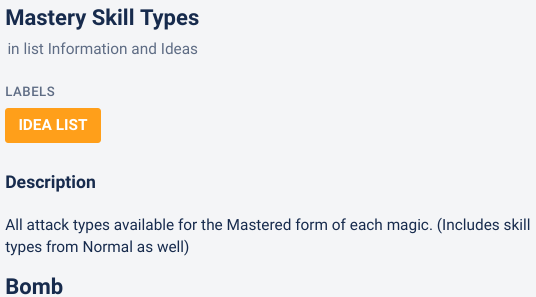 I just don't understand. Is there going to be a magic circle that once you step on it, it explodes?
Basically a land mine, or a proximity mine.
My best guess is either a landmine or a timed grenade.
Might be cool to fire a bunch of magic grenades in an amount with a configurable fuse length, i dunno.
At least we know it's not just an explosive blast as it's a planned lost spell, so I assume it's a time bomb or a mine.
did you play that bomber class in critical strike? i just imagine that one move where it like kinda bounces kinda the blows up like it goes in an arc? i guess?
I expect it be like those early blasts of solid magics but is also a timed explosive. When you fire it, it is affected by gravity and falls to the ground after flying for a short time and explodes a set time after being fired.
Dude if it's a mine… that would be so epic–especially if there is no time limit for it to despawn. That would pave ways for pranks, guerrilla warfare, strategical and psychological battles.
Watch me blow up the whole arena beforehand, place bombs, and let the arena repair itself to hide the bombs.