Details
If I remembered correctly, vetex was able to use a custom skybox in the holloween update I think? As well as having a different skybox each day for Arcane Odyssey. So considering vetex can change the skybox, this means changing the night skybox will be possible, and so with this, I would like to add one thing to the game to make the night more beautiful and perhaps even become some sort of activity?
Milky Way Night Skybox
When I was playing genshin impact and doing my usual routine, I never really thought much of my surroundings since im at a point where grinding is now the main focus since i've done all of the quests. But one thing that I never noticed is how beautiful the night sky was in Genshin Impact.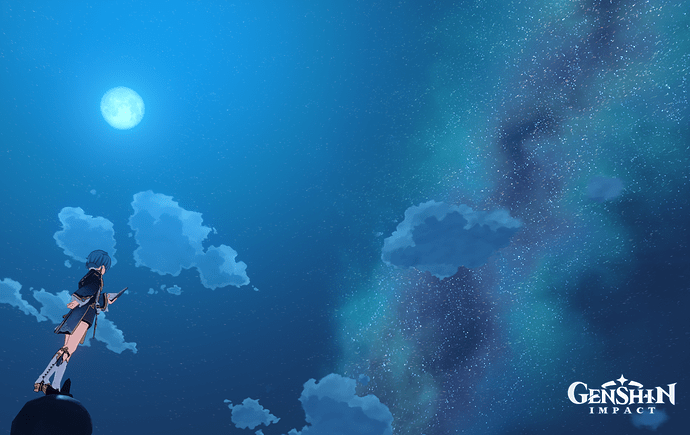 The main things that made it beautiful was the milky way, stars and the moon shining beautifully. Though considering the moon might not be changed into a brighter and magical looking moon, i'm content with just having the night skybox be atleast more beautiful.
New Tool: Telescope
A tool to magnify your vision, useful when identifying people that's far from you and this work even well with your quality settings atleast above eight.
Star Gazing Activity
Using the telescope, if you look at the night sky, you'll be able to magnify even further by pressing a key. By doing so, your vision will be changed to that of space with stars. You'll be able to look around by click and dragging the screen since it's similar to how the map works but just fills the whole screen and has a different image. To stop star gazing, simply press the key again.
When star gazing, there's a chance that you'll find a constellation, similar to how the mark on bosses shows up in your map. Once you found a constellation, you'll simply need to click on it and it'll mark an area in your map. The marked area will show you something in there that often times you need to manually find yourself, such as diving spots, ghost ship, and sealed chests.
Though it'll only mark an area if something that you have to manually find yourself has spawned. So if nothing spawned, there wont be an area marked on your map. What it marks also depends, just like how rare it is to find diving spots, it'll also rarely mark them, this is to balance star gazing activity.
New Player Profession: Astrologer
When star gazing, you have a higher chance than normal players to find a constellation.