Ever since following got added, it's blocked out the function of mute and ignore on the profile pages of people. This is a pretty big issue, since some people may be getting harassed by someone, and they can't block out the notifications from their replies and whatnot.
Here's an example image of the issue: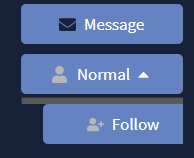 As you can see here, I have clicked on the contact status function, but I cannot access any of its functions because of the follow button.