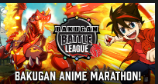 Basically pokemon
Ayo bakugan? I remember getting a ton of knockoffs at the wet market back when I played with them hehe.
I miss the old days when there were actually good events that people would get excited for
Those were fun, but I guess those costed too much time and effort for what they brought to roblox in a business perspective. The egg hunts particularly.
My first introduction to Bakugan was recent, through me seeing some ad for some horrible shovelware game about it for the Switch. Didn't buy it and never will, but god it looks so horrible.
If you're interested in it's awfulness, I recommend looking up Gamexplain's review on it.
omG bATtle LeAGue I bEt iTs SoOOoO ExItINg
…That isn't the original bakugan design.

WHAT THE HELL WAS WRONG WITH THE OLD ONE?!
BETTER QUESTION: WHY DID ROBLOX THINK THAT THIS FORGOTTEN SERIES FROM THE EARLY 2010's WOULD GET PEOPLE HYPED UP?! THE SHOW'S BEEN DEAD FOR YEARS!
It looks like a copy of loomian legacy but an advertisement.
Feels like I time traveled
This series ended before some roblox players were even born lmao
Genuinely forgot about its existence till this post
even though whatever this thing is is supposedly dead, i think they're trying to revive it or whatever clearly because i remember seeing an ad for them but as toys or some shit on tv a few months back lmao
Man i watched that show like half a decade ago
Bakugan wasn't JUST pokemon, it was so much better and cooler as an actual toy since you have little marbles that you can ROLL onto cards and it was SO cool as a child and now I grow up and realize I hate everything new and I want the new show gone and replaced with the old… I'm going insane, but I haven't bothered with the event even though there's prizes
man if only they didnt reboot bioncle
ok

I don't get why you call it "basically pokemon"
it's like saying every monster collecting game like Digimon or Yo Kai Watch is just pokemon
but I won't deny Bakugan nowadays has sort of been declining
Isn't Digimon basically Pokemon?
I get what you are saying but ratio