Ever played Arcane Adventures for more than 1 hour as a criminal? Ever seen a frigate coming across your way, with a big 50k hp healthbar and with a comical name "stolen ship"? Did it shoot about 6 rounds of heavy 300lb cannonballs at you, and then you saw a fat "3600" damage indicator above your head, as your screen darkens and you wake up in a prison? Yep, that was probably me.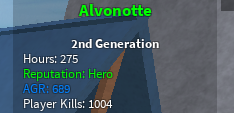 proud to say that I had 689 AGR and most of them were from 300LB cannonballs
As you can probably guess, I'll be joining the Magic Council in WoM too.
My magics will consist of Ice, water and snow, a cold/frigid themed wizard.
I also work with 3D Models in Blender, and have worked for various groups as an asset maker in the past. Glad you dropped by!