Alright i'll start, here's mine

Everything is Ash (multi is Ashs).
Except for my 20-blast barrage. That's Absolute Balls.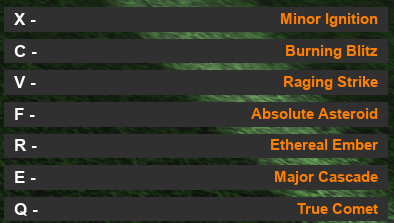 I put more thought into naming my magics than I'd like to admit
I named all my spells after the casting animation I use for them.
Punch- single max size blast attack
Clap- shockwave placed explosion
Swirl- pillar placed explosion (uses spinning animation)
Jump- self explanatory
Stomp- self shockwave explosions
Strike- beam attack (uses left hand swipe animation I think)
Wave- 20 min size blasts (uses right hand raise animation)
At a time I named all of my spells "Light Magic: Radical" because it sounded like the end of a 90's infomercial trying to sell light magic or something. Got too hard to keep track of unfortunatley
Um lets see here:
Q: Absolute Destruction
E: Holy Impact
Z: Absolute Nuclear Destruction
X: Ultra Nuclear Gatling
C: Blazing Nuclear Assault???
V: Final Flash
R: Holy Ascension
Q: Ethereal Gemstone
E: Ethereal Bolt
R: Ethereal Burst
F: Ethereal Boost
V: Ethereal Impact
C: Ethereal Arrows
X: Final Beginning
Z: Ethereal Asteroid
i named everything epic rocket with the same animation so that nobody knows what im using if they try to memorize my spell names
ALL OF MY ATTACK NAMES ARE CLAP BUT MY ATTACK ANIMATION ISNT ACTUALLY CLAP, THIS IS HOW I ONE UP AGAINST MY OPPONENTS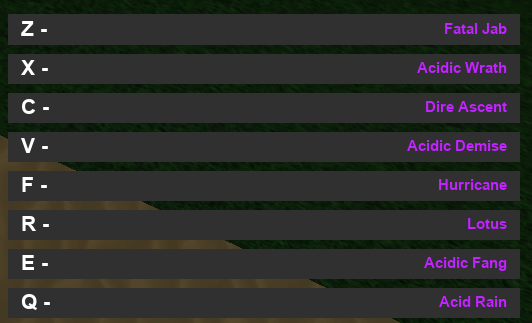 Personally not a fan of triple names
(also i really wish corrosive was a synonym for acid

)

one word gang
It really helps in combat when you don't have to say a long name every time you do an attack
acid blast
acid shot
acidic behemoth
acid volley
acid ascent
acidic fury
Glass profile:
Glass
Glass
Glass
Glasss
Glasss
Glass
Glass
One word gang:


Also themed names gang.