you had to do that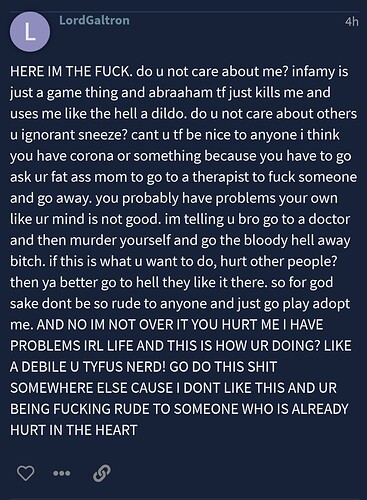 This post is the peak of the forum. Nothing will ever compare and it's all downhill from here.
"HERE IM THE FUCK"
I had twenty seizures whilst reading that.
Also, I bet that they did not have issues IRL. They just salty.
gg ez skill issue
umm, who was lord galtron again?
theres much worse that he posted LMAO. id probably get warned if i posted the screenshots so i wont but u gotta read through what else he said. This shit is hillarious
They both got suspended too
biggest skill issue of word
imagine signing in just to post that

wow, it's weird I missed that entire side to that convo
it just be like that sometimes
is this middle english or something
No. it's caveman language
i'd probably pay to have "HERE IM THE FUCK" on a shirt
but have you seen this image
i'd pay twice the amount for that on a shirt