Jail Activities
Currently in the game, getting jailed traps you in a room for 10 minutes, 10 minutes of absolutely nothing to do. My suggestion aims to add activities that will benefit players while they are in jail and not just distract you.
The Existing System
Negatives:
It simply isn't fun.

Casual players can quit the game out of boredom.
Invested players minimise the game and do something else in the meantime.
Positives:
Incentives cooperation between players to get yourself broken out.
Some Activity Ideas:
Negative Rep quests
I think using jail as a place to grab a couple repeatable quests would make players feel a bit less frustrated when they get locked up. Here are some examples:
Quests to complete outside of prison:
Revenge on The Navy: Sink a Grand Navy Ship. (repeatable)
Merchant Raid: Sink a Merchant Ship. (repeatable)
Message Between Thieves: Talk to a criminal inside Blackwater Village.
Quests to complete inside of prison:
Smuggled Item: Pick up a knife off the floor and give it to X prisoner. (repeatable)
Interactable Prisoners
Inside jails there could be some stationary prisoner NPCs, you can talk to them to receive some lore and further world building for the War Seas.
Topic examples:
Famous Pirates/Grand Navy members.
Grand Navy lore.
A tale from the dark seas.
Timer Reducing Tasks
These tasks are the bread and butter of this suggestion. After picking up whatever quests they want from prisoners while in jail, players could do various beneficial tasks. These tasks:
Reduce their jail time.
Provides them with exp or items to further their gameplay when released.
This would encourage them to play the game in order to get out faster. Personally I'd like if doing enough of these tasks reduced the timer down to 5 minutes or less.
Some ideas:
Moving cargo (Provides some galleons)
Cleaning up floors by picking items like old boots.
Cooking food (Food, Cooking Exp)
Mining (Source of gems?)
Mockup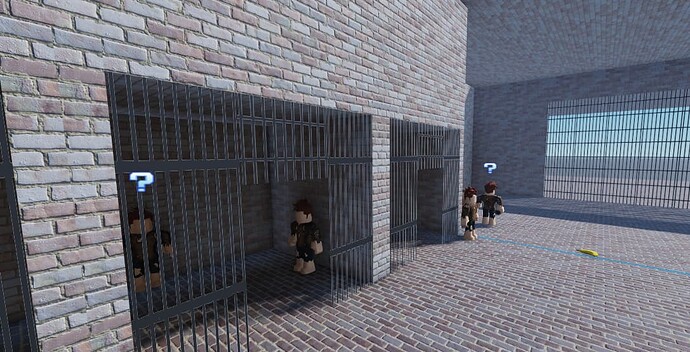 Conclusion
Overall the jail system right now is just another one of the downsides of playing with a bounty. With it changed I think the game would get a bit more engaging for players on that side of renown.
If anyone has feedback to this suggestion, be free to let me know and I'll consider it, then if I like it, edit the post.