Miscellaneous articles in the Agora
Details
Randomized topics unrelated to gameplay will appear in the Agora when a page is half-blank. These topics won't override actual game-altering articles such as news of Grand Navy deaths or rescuing castaways (as these impact Renown and Bounty; they will be prioritized over the useless, miscellaneous ones).
To better explain it, imagine a content drought in the Agora seen here, with 3 spaces occupied and the other 2 left blank because nothing else is going on in the server: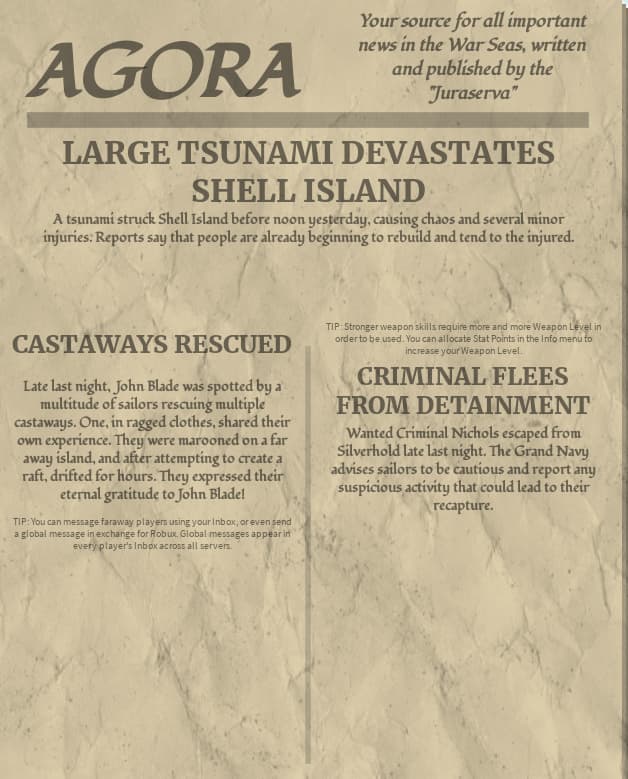 The game will automatically fill in the rest of the page with randomized topics. As in, if the first page is left half-blank (seen here), it'll only use miscellaneous topics to complete just said page (to prevent the Agora from introducing 5 whole pages of useless info):

Topics can take on the form of Grand Navy influence, storm cloud sightings (warning of inclement weather for sailors), good harvests in cities, booming/crumbling business for shopkeepers, hot tourist destinations, merchant vessels putting out help wanted ads, and pretty much anything else you can think of.
There may even be variations within these individual articles, such as a merchant vessel promising high pay but dangerous voyages vs moderate pay but quick voyages. Or the Navy interviewee ending with a warning to criminals vs saying you're welcome to everyone vs "we got them on the run."
Reason to add
The Agora doesn't feel as much of a newspaper and more like an unpredictable way to earn extra Renown/Bounty right now. We have to remember that pretty much everyone in the War Seas reads this, not just players (and since when have you entered any public place, picked up a newspaper, and see half of it empty). A little addition like this would show that the game is bustling with life and activity, not just a playground for some Roblox addicts. A newspaper should probably cover all aspects of life, not solely focus on players horsing around.