Okay so basically:
They're known to gank, rk, and all
A lot of their members have serious egos
Their last leader was a pedophile. No, I was wrong, I mixed some other guy up with the first leader, shut up already please
A basic summary.
WAIT SHIT I JUST SAW IT FUCK YOU
best fuckin reaction I've seen this morning
Last I heard, yeah. Pretty insane, honestly, I didn't know about it until shortly after Jasono getting outted.
I don't keep up with the guilds until someone runs into my server shouting "SUNCRY IS DEAD"
Same here man. I don't have time to hear about a guild topscoring or a guild war that devolved into literal fucking crimes.
All I want to do is await the AO update and to farm EXP and items.
Monopolization of things that spawn infinitely is good
connor wasn't a pedophile he left because he was like I have stuff in irl to do I can't focus on
I was farming levels on my alt and I saved this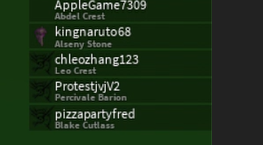 Suncry isn't the only guild who ganks and rks and just because you see them rking doesn't mean others don't either hate us all equally or like us all equally don't be biased